Uptated Timbase
OCXO Based
Morion MV85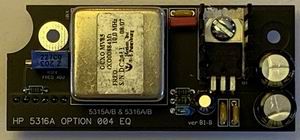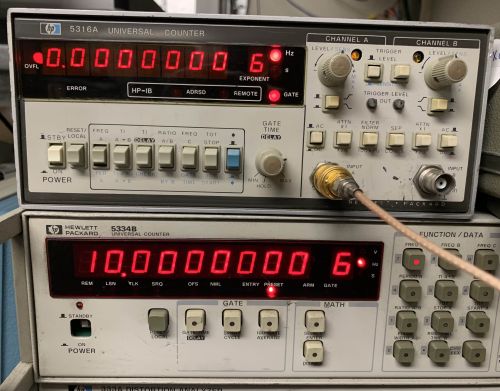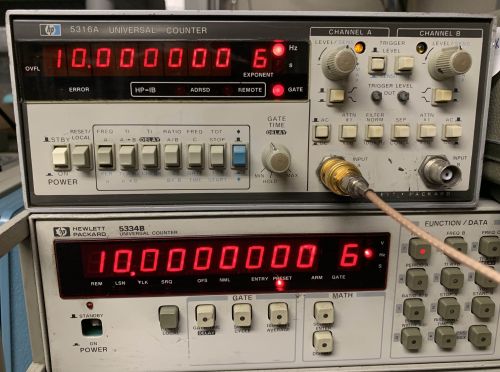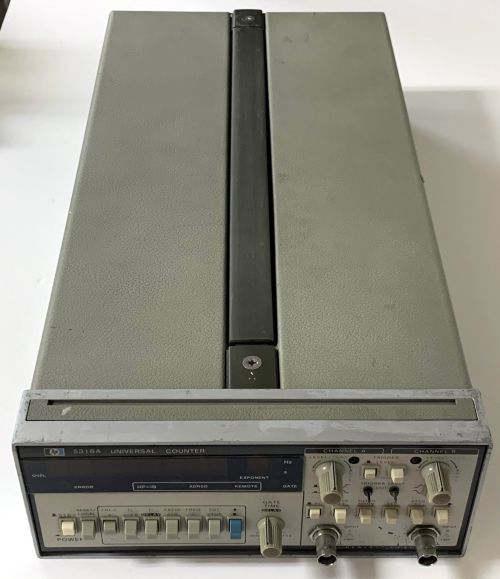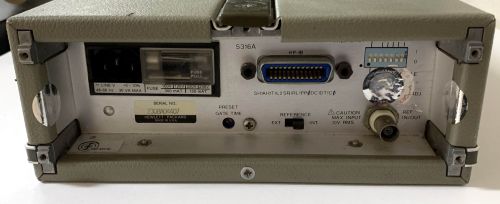 The HP5316A Reciprocal Counters were manufactured with a variety of 10Mhz time bases, including onboard and modular basic oscillators (XO), temperature compensated oscillators (TCXO), and for some series numbers, an oven controlled oscillator (OCXO).
For the very best stability and performance an OCXO is desirable but originally very expensive. We have updated this HP5316A with a 'Rock Solid' OCXO based on Morion MV85 oven oscillators.

Reciprocal Counters are computing devices, so once the basic components like the analog front-end, switches and knobs are known good, the 'modes' selected are relatively certain to operate correct. We have verified that all the internal self-tests are ok, LEDs are ok, etc. There are no bottom feet or back panel feet.

NOTE: 30 Day Return Warranty Provided Security Stickers remain un-disturbed.
This unit has been calibrated to 10.0000000Mhz +-1count with a GPSDO (GPS Disiplined Oscillator). Note that that is 9 digits in overflow mode with a gate time of ~4-5s. This is really the very best that can be done without a cal lab being involved. And it is likely they cannot do better. We make no adjustments to the analog front end, as a working meter should be left alone unless there signs of problems.
No Channel C 1Ghz
OCXO installed
Gate-time Pot ok with locking 'hold'
Knobs refurbished
Serial: 2308A04407


NOTE: Shipping charges if applicable on these items (usually USPS 1st Class) may not appear until your address is entered during PayPal checkout.